Original Publication Date: August 5, 2019 Author: Andrew Dodson, Denver Business Journal
A new master-planned, mixed-use development that could feature as much as 800,000 square feet of office, residential, hotel and retail space is chugging into Denver's hottest neighborhood.
Denver-based Invent Development Partners closed on about $24.8 million of land in the River North Art District near RTD's 38th and Blake on Tuesday, July 30, with plans to build a transit-oriented development called "Train Denver." The project will consist of four towers ranging from eight to 16 stories.
The development
Three parcels at 4000 Blake St., the former site of General Welding Supply, will include two towers built atop two stories of restaurant and retail space, and underground parking. Plans call for one of those stories to top out at 14 stories and feature about 275,000 square feet of Class A office space. The other tower would be 16 stories tall for a 200-room "lifestyle boutique" hotel, said Jon Dwight, president of Invent.
"I think RiNo is one of the most exciting development opportunities in Denver, if not one of the most exciting in the country," Dwight told Denver Business Journal.
Across the street, where Mile Hi Express, a refrigerated trucking company, had operated, is where Dwight is planning a 12-story residential tower and an eight-story select service hotel, in addition to a parking structure that would serve the entire development. His firm is still determining if the residential tower should be apartment rentals or for-sale condo properties.
Three levels of that site would include a retail component called "Studios in the Rockies," with restaurants and shops. A 400-500-seat entertainment venue would be included on the roof of that part of the development, Dwight said.
He declined to comment on a specific investment amount for the development, outside of saying it would be in the "hundreds of millions."
Denver-based Davis Partnership Architects is the designer of the project. Joe Lear, principal of the firm, said Train Denver will "truly anchor the north end of RiNo, bringing vitality and strengthening community through a diverse mix of uses and high level of quality."
The deal
Dwight has had most of the land under contract since mid-2016, but it took about three years — and some creative negotiating — to finally close about three years later.
As part of the deal, Mile Hi Express said because they would have to move their business out of RiNo, Invent needed to build a new facility for them. The development firm agreed and that property, located in Aurora, opened a few weeks ago.
"It's certainly a structure you don't see all the time, but it was a win for all parties," said Drew McManus, the Cushman & Wakefield broker who, along with partner Bryan Fry, represented both sides of the deal.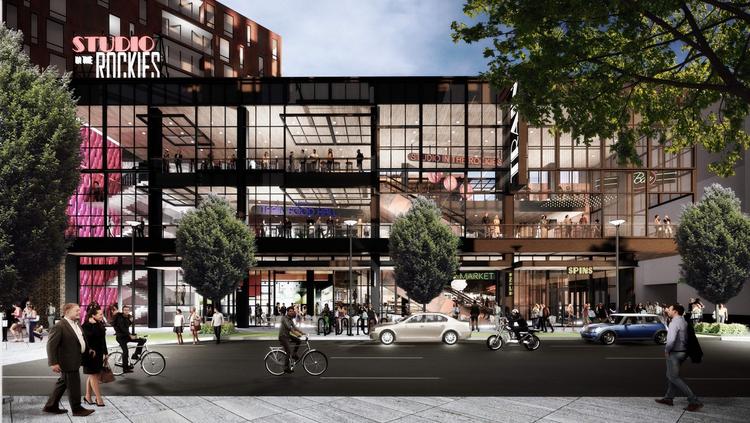 The other wrinkle — albeit a good one for investors in the project — was that half of the development ended up being included in one of Colorado's 126 opportunity zone sites. The federal program allows investors to defer and possibly reduce their capital-gains liabilities by investing in qualified projects. More than $1 billion worth of projects have already been announced in metro Denver, including a few in RiNo, like World Trade Center Denver and a new luxury apartment project.
Halpern Real Estate Ventures is a co-general-partner providing capital for the project. The New York-based firm has an opportunity zone fund that's looking to raise $50 million, according to a Securities Exchange Commission filing. To date, that fund has raised about $30 million, according to the company.
"Train Denver is perfectly aligned with our opportunity zone investment strategy of partnering with seasoned local developers and leveraging off our direct experience in urban infill development in emerging neighborhoods," said Jon Halpern, managing partner and chief executive officer of the firm.
Denver-based Cadence Capital Partners connected Invent with Halpern on the deal, Dwight said.
The project still need site plan approvals from the city before it can move forward. Dwight declined to comment on a groundbreaking date.
Nearby development
The section of RiNo near 38th and Blake has been described as becoming Denver's "most desired business district."
Across from the RTD station is the new World Trade Center Denver building, a catalytic project that's going to include 350,000 square feet of office space and a 240-plus-room hotel and conference center. Denver-based Formative and Chicago-based Golub & Co. are developing that project, which is also located in an opportunity zone.
In April, HomeAdvisor moved into its new headquarters at "The Hub," an an eight-story office building at 3601 Walnut St. Seattle-based Schnitzer West has plans for a 12-story, 200,000-square-foot speculative office building at 3615 Delgany St. And Koelbel and Co. is developing "Watershed," a 167,000-square-foot office building next to the catalyst HTI along Brighton Boulevard.
In 2015, Invent Development Partners broke ground on Backyard Residences — 14 townhomes  that are part of the "Backyard on Blake" development on Blake Street between 30th and 31st streets.
Original Article: Here